today was really good...at least the first half. Stella and I just hung out, had lunch together then we went to Oak Glen to see the animals. Unfortunately mostly everything was closed, apparently its a "weekend" thing :) But we saw a pig, two chickens, and a rooster and Stella was completely satisfied. We got some treats at the village market and took some great pics.
We came home, had some dinner, and the 2 3/4 year olds mental breakdowns began. About what you ask? I wish I knew. I had been planning on going to the gym tonight since yesterday and I didnt want her attitude to change by mind so I went anyways. This was Stellas first night at the LA Fitness Kids Club. She went right in, it seemed as though everything was gonna go smoothly. Much to my dismay, I return to the lady that works there saying that my daughter "Sara" slapped 2 kids and a baby...A BABY. I was kinda embarassed, almost scared to let her return :(
Before the breakdowns and before the apple farms I took some pictures of her cause she looked so freaking cute...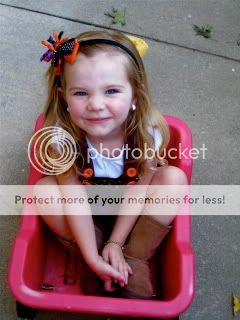 Is there such thing as baby PMS?
p.s. country music + yoga...NOT down